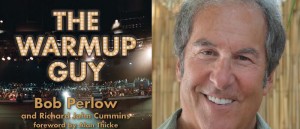 It's the rare performer who can legitimately claim to have created an entirely new entertainment category. But Bob Perlow did and can. Chock full of backstage dish on some of TV's biggest sitcom stars, he documents that in his new show business memoir: THE WARMUP GUY (Pelican Publishing Company/February 15, 2016) and will be performing his one man show at New York's Triad Theater on February 16th.
There's more to warming up a TV studio audience than an initial pre-show rah-rah cheerleader session to get the folks in the bleachers revved up. That was the way it once worked, but Bob Perlow changed that forever when, for a whopping $50 a week, he agreed to warm up the audience for the first tapings of "Laverne and Shirley." Instead of cracking a few jokes to set the tone, with his own money he bought a supply of audience giveaway t-shirts, and performed what amounted to a stand-up comedy act every time there was a scene break, a re-shoot, or anything else that caused taping to stop during a three-, five- or eight-hour taping.
"He knew all the secrets," says Jay Leno and was "One of the best," according to Garry Marshall.
"Laverne and Shirley," "Mork & Mindy," "Taxi," "Cheers," "Newhart," "Oh, Madeline," Night Court," "Growing Pains," "Full House," "Who's the Boss," "House Party," "Coach," "Home Improvement," "Jay Leno and the Tonight Show," "Friends," "Dharma & Greg." Perlow was there for them all….and all the shenanigans, flubs, slip-ups, star fights, feuds and friendships.
THE WARMUP GUY lets us in on:
*Penny Marshall's and Cindy William's animosity and competitiveness, so intense that at table reads each actress would count the number of lines in the script out loud in order to make sure the other wasn't getting more attention.
*The night there wasn't a single laugh during the "Laverne and Shirley" taping. No one had told the team that the audience was 100% Taiwanese and no one spoke a word of English.
*Andy Kaufman always skipped "Taxi" rehearsals. An unknown — Mike Binder, later a successful comic and director — showed up on set every day and read the lines Kaufman would deliver in person later during taping.
*What was normally a three-to-five hour shoot for "Cheers" regularly turned into a much longer taping because Shelly Long insisted her hair and make-up be totally redone after each scene, rather than just touched up as was standard procedure.
*Peter Scolari insisted on juggling bowling pins for the audience between "Newhart" scenes, much to the initial amusement but ultimately boredom of the entire audience.
*During a "Night Court" taping Harry Anderson's love interest, actress Karen Austin, had a meltdown: in a rage she physically attacked Anderson and had to be removed from the set — never to return. A sober John Laroquette, open about his own prior battle with alcohol, offered counseling to others who he thought might be in danger, and once the cameras stopped rolling the big loveable character of "Bull," played by Richard Moll, was one of the most unpleasant people Perlow ever worked with.
*In the "Growing Pains" heyday at a celebrity tennis tournament Chevy Chase bumped Perlow off the court so that Chase could play against Chris Evert, even though moments before Chase had left the court saying he was too tired to go on any longer. And before he became a right wing evangelical wing-nut, "Growing Pains" star Kirk Cameron walked the set with large exotic snakes twined about his neck. Ironic when one thinks about the role of the snake in the Biblical Garden of Eden.
*One member of the "Full House" cast was daily stricken with such flatulence that even today when one watches old shows, fellow cast members can be seen moving away from him as he delivers his lines.
*In "Coach" Craig T. Nelson and Jerry Van Dyke disliked each other intensely. Their backstage arguments were so loud the audience in the front of the house heard every furious word.
*Tim Allen couldn't abide having any eyes on anyone other than himself during "Home Improvement." He once stalked onto the stage while Perlow was delivering a warmup comic set, yelled, "Hey, the show's down here!" and had Perlow fired.
*Longtime friends Jay Leno and Perlow, in Las Vegas for a Sinatra show, once unknowingly sneaked into the banquette reserved for the star's mother, not knowing she had been killed that day in an airplane crash and the seat was now there "in memoriam."
*Perlow did warmup for "Friends" for the first three seasons and, to the disappointment of gossip columnists worldwide, never once saw any friction, personal or otherwise, between any of the actors, though show creators David Crane and Marta Kauffman demanded so many retakes that tapings often lasted eight hours and Perlow had to beg audience members to remain in their seats and not desert the theatre to go back home.
THE WARMUP GUY Bob Perlow has many more juicy behind-the-sets-and-scenes tales to share.
ABOUT BOB PERLOW
Bob Perlow is a comedic entertainer who creates, produces, writes, and stars in taped performances. A product of TV, he grew up with the medium and spent more than thirty-five years as a warmup comedian. During that time he also received writing credits for Who's the Boss?, Laverne & Shirley, and many other well-known comedies. Perlow is the star of a one-man multimedia show, Tales from Hollywood, which chronicles his career in entertainment. He lives in Narragansett, Rhode Island.