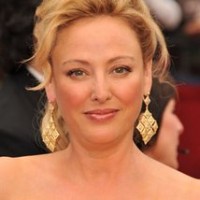 Oscar and Golden Globe nominated Virginia Madsen gave us a few minutes on Thursday, May 5, 2016.
Virginia, and her Emmy award winning mother Elaine Madsen, produced and directed a documentary titled "I Know a Woman Like That" which is available May 10 on DVD and digital platforms.
Virginia also is appearing in the summer TV series "American Gothic" on CBS which debus Wednesday, June 22 for 13 episodes.
Here is Stephen Rickard's interview with Virginia and Elaine…