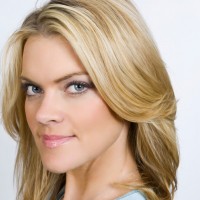 Born in Texas and raised in Tennessee, Missi Pyle attended the North Carolina School of the Arts and moved to New York after her graduation to pursue a career in theatre. While there, Pyle continued working in Off-Broadway theatre where she performed opposite John Malkovich in Steppenwolf Theater Company's "The Libertine." She soon made her film debut opposite Helen Hunt in "As Good As It Gets" and moved on to land major roles in television and feature films. (more of her bio follows below…)
Here is our interview with Missi on Thursday, May 26, 2016.
Here is Missi Pyle's Facebook Page
Click here to see the Sing It! page on YouTube Red.
(…more from Missi's bio…)
Pyle's film credits include 2012's Academy Award winner for Best Picture "The Artist," "Spring Breakdown" with Amy Poehler, Amber Tamblyn, and Rachel Dratch, "Charlie and the Chocolate Factory," "Dodgeball: A True Underdog Story," "Big Fish," "Bringing Down the House," "Feast of Love," and "Anchorman: The Legend of Ron Burgundy." Pyle gained attention for her hilarious portrayal of the alien "Laliari" in "Galaxy Quest" with Tim Allen, Sigourney Weaver, and Tony Shalhoub." Pyle's resume also includes a number of notable television appearances, including a recurring role on "The Sarah Silverman Program," "Up All Night," "S**t My Dad Says," "Two and a Half Men," and "Friends" to name a few. In fact, David E. Kelley became so taken with Missi as a result of her work in an episode of "Boston Legal" that he crafted a role in his later series "The Wedding Bells" with her in mind.
When she's not lighting up the big or small screens Pyle is working on her music and performing with her band. She released a debut album titled "It's Okay to Be Happy" with her band Smith & Pyle before hitting the road with her solo show "Sexy as Hell" which had sold out performances at Joe's Pub in New York, as well as several venues in Los Angeles. She's currently working on another album with her new group The Nice Ladies.
Missi Pyle received a lot of buzz for her flashy role in "Gone Girl" opposite Rosamund Pike and Ben Affleck. She is next due to appear with Viggo Mortensen in the feature "Captain Fantastic" which had its debut at the 2016 Sundance Film Festival. She stars opposite Penn Jillette in the upcoming DIRECTOR'S CUT, in which she plays herself as an actress starring in a police drama who is abducted by a crazed fan who makes her "re-shoot" the film according to his creative vision. The film debuted at this year's Slamdance Film Festival.
ABOUT SING IT!
SING IT! is a new weekly, 10-episode, scripted comedy series from Fine Brothers Entertainment and Mandeville Films that lovingly satirizes the reality singing competitions that have become a centerpiece of pop culture. The series, which follows the behind the scenes drama of the fictional reality show "Sing It!," will debut on May 25, 2016 exclusively on YouTube Red, the new ad-free entertainment and music subscription service.
SING IT! debuts exclusively on YouTube Red on May 25, 2016.
The story begins when "Sing It"'s long-running executive producer is fired, and Stacey Needles' (Mircea Monroe) plan to take charge is thwarted with the arrival of newcomer indie producer, Drew (Mark Sullivan). His inexperience and blind passion threaten to offset the balance of the show's quirky contestants, duplicitous executives, and rollicking crew.
This fun workplace comedy not only offers a tongue-in-cheek, behind the scenes look into a music reality competition show, but includes upbeat and incredible performances from the contestants with one to be eliminated at the end of each episode until the final two are left.
In a unique twist, "SING IT!'s" creators have added an unprecedented layer of interactivity to a scripted series. Before the final episode, viewers will be able to vote and decide which of the two finalists will ultimately win it all in this show within the show.
Missi Pyle (Gone Girl), Debby Ryan (Jessie) and real life music couple Ace Young and Diana DeGarmo (American Idol) round out the all-star cast. Guest stars include Sasha Pieterse (Pretty Little Liars), YouTube stars Sam Tsui, Todrick Hall and Tim DeLaGhetto and many more.