FEW WOULD HAVE GUESSED that "Weird Al" Yankovic – who as a shy, accordion-playing teenager got his start sending homemade tapes in to the Dr. Demento Radio Show – would go on to become the biggest-selling comedy recording artist in history and a pop culture icon. Now in his fourth career decade as America's foremost song parodist, he has been honored with four Grammy® Awards and fifteen nominations, including his most recent win in 2015 for Mandatory Fun, the first-ever comedy album in history to debut at #1 on the Billboard charts, capping a career's worth of accolades for classic song and music video parodies such as "Eat It," "Like a Surgeon," "Smells Like Nirvana," "Amish Paradise," "White & Nerdy" and "Tacky."  (see more of Al's bio below…)
Latest Interview with Weird Al on May 24, 2016
Interview with Weird Al on June 25, 2013
Interview with Weird Al on July 15, 2014
WEIRD AL'S LEGENDARY FACEBOOK PAGE
WEIRD AL'S LEGENDARY TWITTER PAGE
WEIRD AL'S LEGENDARY INSTAGRAM PAGE
WEIRD AL'S LEGENDARY YOU TUBE PAGE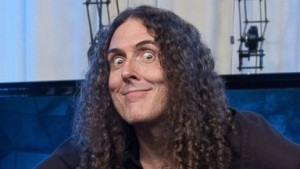 …and now the conclusion of Al's bio…
Following his wildly successful 2015 Mandatory World Tour, traveling to more than 100 cities in the U.S., Canada, Europe and Australia, the tour continues beginning on June 3, with Yankovic bringing his high-energy comedy rock show to another 80 cities across North America including New York City's Radio City Music Hall and two nights at the legendary Hollywood Bowl in Los Angeles where he will be performing with the Hollywood Bowl Orchestra.
In the wake of his 1989 cult-hit feature film UHF, his late 1990s CBS Saturday morning series The Weird Al Show and numerous AL-TV specials he's made for MTV and VH1 over the years, Yankovic has remained a staple of film and television, from appearances on The Simpsons and 30 Rock to a musical production at the 2014 Primetime Emmy Awards. Most recently he has guested on ABC's Galavant (as a singing monk) and The Goldbergs (as the '80s version of himself). This spring Yankovic joins the fifth season of IFC's Comedy Bang! Bang! as its new co-host and bandleader, and this fall he will be heard as the voice of the title character in Disney XD's new animated series Milo Murphy's Law (from the creators of Phineas and Ferb), in the wake of other voiceover work for Gravity Falls, Wander Over Yonder, Adventure Time and the DC animated feature Batman vs. Robin.
His live performance on George Fest: A Night to Celebrate the Music of George Harrison was recently released across all formats, while Legacy Recordings is planning a career-spanning box set featuring all 14 "Weird Al" Yankovic studio albums digitally remastered later this year. Also, NECA will debut the first in a line of retro-clothed Weird Al action figures in May.
In the last decade, Yankovic's music and videos have only become more popular. His 2006 album Straight Outta Lynwood spawned the Billboard Top 10 single "White & Nerdy," the video for which spent two months at #1 on iTunes and garnered over 150 million web hits. In 2009 he wrote, directed and starred in the themed attraction Al's Brain: A 3-D Journey through the Human Brain featuring cameos by his mother-in-law and Paul McCartney. Two years later, in tandem with the release of his album Alpocalypse, Comedy Central aired the concert special "Weird Al" Yankovic Live: The Alpocalypse Tour, filmed at Toronto's venerable Massey Hall, and released the unedited version of the concert on DVD and Blu-ray. In 2012, The Nerdist Channel debuted Face 2 Face with "Weird Al" Yankovic, a web series where Al got to "interview" some of his "close, personal friends" in the entertainment biz.
In July 2014 Yankovic released his 14th studio album, Mandatory Fun, which would go on to win Best Comedy Album at the 2015 Grammy Awards. The album features parodies of some of the biggest hits of the previous year, including Pharrell Williams' "Happy" ("Tacky"), Robin Thicke's "Blurred Lines" ("Word Crimes"), Lorde's "Royals" ("Foil"), Iggy Azalea's "Fancy" ("Handy") and Imagine Dragons' "Radioactive" ("Inactive"). The album also features several inspired originals and pastiches ("Lame Claim to Fame," "Sports Song," "My Own Eyes," "Mission Statement," "First World Problems" and "Jackson Park Express") along with Al's latest accordion-fueled medley, "NOW That's What I Call Polka!"
Mandatory Fun debuted at #1 on the Billboard Top 200 album chart, the first time a comedy album debuted at #1 and the first time a comedy album reached the top of the chart in more than 50 years (the last one being Allan Sherman's 1963 release My Son, the Nut). On Spotify, Yankovic set the U.S. record for having the most tracks from one album in the viral top 10 at one time, taking the first four spots. Internationally, the album debuted in the Top 10 in both Canada and Australia (#3 and #9 respectively). In addition, "Word Crimes" debuted in the Billboard Top 40, making Al one of only three people to have had Top 40 singles in each of the last four decades, the other two being Michael Jackson and Madonna.
For Mandatory Fun, Al released eight music videos ("Tacky," "Word Crimes," "Foil," "Handy," "Sports Song," "Lame Claim to Fame," "First World Problems" and "Mission Statement") across eight days, resulting in more than 46 million views combined in its first week. For the videos he teamed up with various production partners such as Nerdist Industries, CollegeHumor, Yahoo!, Funny Or Die and TruScribe, as well as talented auteurs like Liam Lynch, Jarrett Heather and Tim Thompson.
Yankovic added "New York Times bestselling author" to his resume with the release of his 2011 children's book, When I Grow Up (HarperCollins). The following year came Weird Al: The Book (Abrams), an illustrated hardcover on Al's life and career, followed by another Al-penned kids' book, My New Teacher and Me! in 2013. Currently in the pipeline is a television show based on his children's books, being developed with the Jim Henson Company. Among other publishing milestones, on April 21, 2015 Weird Al had the honor of becoming MAD Magazine's cover boy and the first guest editor in the magazine's 63-year history.
Al's social media fan base currently sits at over 4 million followers on Twitter (@alyankovic), 1.76 million fans on Facebook (weirdal), 183,000 followers on Instagram (alfredyankovic) and more than 970,000 subscribers on YouTube (alyankovic).
For more information on Weird Al, and for a full list of Mandatory World Tour dates, please visit weirdal.com.
THE RETURN OF THE MANDATORY WORLD TOUR 2016
Friday, June 3 – Saint Petersburg, FL – Mahaffey Theatre
Saturday, June 4 – West Palm Beach, FL – Kravis Center for the Performing Arts – – Dreyfoos Hall
Sunday, June 5 – Fort Myers, FL – Barbara B. Mann Performing Arts Center
Tuesday, June 7 – Mobile, AL – Saenger Theatre
Thursday, June 9 – Lakeland, FL – Youkey Theatre
Friday, June 10 – Miami, FL – Adrienne Arsht Center for the Performing Arts
Saturday, June 11 – Saint Augustine, FL – Saint Augustine Amphitheatre
Sunday, June 12 – Birmingham, AL – BJCC Concert Hall
Wednesday, June 15 – Louisville, KY – Iroquois Amphitheatre
Thursday, June 16 – Nashville, TN – Grand Ole Opry House
Friday, June 17 – Huntsville, AL – Von Braun Center
Saturday, June 18 – Greensboro, NC – Greensboro Coliseum Complex – White Oak Amphitheater
Sunday, June 19 – Atlanta, GA – Fox Theatre
Tuesday, June 21 – Portsmouth, VA – NTELOS Pavilion at Harbor Center
Wednesday, June 22 – Baltimore, MD – Hippodrome
Friday, June 24 – Akron, OH – Akron Civic Theatre
Saturday, June 25 – Bay City, MI – Veterans Memorial Park
Sunday, June 26 – Fort Wayne, IN – Foellinger Theatre
Tuesday, June 28 – Evansville, IN – Victory Theatre
Friday, July 1 – Toledo, OH – Toledo Zoo Amphitheatre
Saturday, July 2 – Aurora, IL – RiverEdge Park
Sunday, July 3 – Merrillville, IN – Star Plaza Theatre
Wednesday, July 6 – Columbus, OH – Palace Theatre
Thursday, July 7 – Indianapolis, IN – Farmer's Bureau Insurance Lawn at White River State Park
Friday, July 8 – Cincinnati, OH – PNC Pavilion at Riverbend
Saturday, July 9 – Chattanooga, TN – Tivoli Theatre
Sunday, July 10 – Southaven, MS – Snowden Grove Amphitheatre
Tuesday, July 12 – Austin, TX – Bass Concert Hall
Thursday, July 14 – Houston, TX – Brown Theatre at Wortham Center
Friday, July 15 – Biloxi, MS – Hard Rock Hotel & Casino – Hard Rock Live
Saturday, July 16 – Dallas, TX – Winspear Opera House
Sunday, July 17 – Enid, OK – Enid Event Center
Tuesday, July 19 – El Paso, TX – Plaza Theatre Performing Arts Center
Thursday, July 21 – San Diego, CA – Cal Coast Credit Union Open Air Theatre
Friday–Saturday, July 22–23 – Los Angeles – Hollywood Bowl
Sunday, July 24 – San Jose, CA – City National Civic
Tuesday–Wednesday – July 26–27 – Woodland Park Zoo
Thursday, July 28 – Troutdale, OR – Edgefield
Friday, July 29 – Eugene, OR – Cuthbert Amphitheatre
Saturday, July 30 – Rohnert Park, CA – Sonoma State University – Green Music Center
Tuesday, August 2 – Santa Barbara, CA – Arlington Theatre
Wednesday, August 3 – Phoenix, AZ – Comerica Theatre
Saturday, August 6 – Littleton, CO – The Hudson Gardens & Event Center
Sunday, August 7 – Kansas City, MO – Starlight Theatre
Tuesday, August 9 – Cedar Rapids, IA – McGrath Amphitheatre
Wednesday, August 10 – Lincoln, NE – Pinewood Bowl Amphitheatre
Saturday, August 13 – Sturgis, SD – Buffalo Chip Campground
Sunday, August 14 – Regina, SK – Conexus Arts Center
Monday, August 15 – Winnipeg, MB – Burton Cummings Theatre for the Performing Arts
Thursday, August 18 – Thunder Bay, ON – Thunder Bay Community Auditorium
Friday, August 19 – Minneapolis, MN – State Theatre
Saturday, August 20 – Appleton, WI – Fox Cities Performing Arts Center
Sunday, August 21 – Madison, WI – Overture Hall
Tuesday, August 23 – Rockford, IL – Coronado Theatre
Wednesday, August 24 – Paducah, KY – Carson Center
Friday, August 26 – Grand Rapids, MI – Devos Performance Hall
Saturday, August 27 – Sterling Heights, MI – Freedom Hill Amphitheatre
Sunday, August 28 – Huber Heights, OH – Rose Music Center at The Heights
Tuesday, August 30 – Wilmington, DE – The Playhouse Theatre
Thursday, September 1 – Lowell, MA – Boarding House Park
Friday, September 2 – Gilford, NH – Bank of New Hampshire Pavilion
Saturday, September 3 – Canandaigua, NY – Constellation Brands Marvin Sands Performing Arts Center
Sunday, September 4 – Big Flats, NY – The Summer Stage at Tags
Wednesday, September 7 – Columbia, SC – Koger Center for the Arts – U of SC
Thursday, September 8 – Wilmington, NC – Cape Fear Community College – Humanities and Fine Arts Center
Friday, September 9 – Durham, SC – Durham Performing Arts Center
Saturday, September 10 – Ashville, NC – Thomas Wolfe Auditorium
Sunday, September 11 – Vienna, VA – Filene Center at Wolf Trap
Tuesday, September 13 – Hershey, PA – Hershey Theatre
Wednesday, September 14 – Providence, RI – Providence Performing Arts Center
Friday, September 16 – Pittsburgh, PA – Benedum Center for the Performing Arts
Saturday, September 17 – Schenectady, NY – Proctor Theatre
Sunday, September 18 – Waterbury, CT – Palace Theatre
Thursday, September 22 – Charleston, WV – Clay Center for the Arts & Sciences
Friday, September 23 – Atlantic City, NJ – Caesar's Atlantic City – Circus Maximus
Saturday, September 24 – New York, NY – Radio City Music Hall