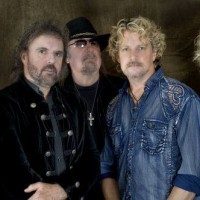 You know the songs…  "Rockin' into the Night", "Hold On Loosely", "Fantasy Girl", "Wild-Eyed Southern Boys", "Caught Up in You", "If I'd Been the One", "Back Where You Belong", "Teacher, Teacher", "Like No Other Night", "Pack to Paradise", "Second Chance", "The Sound of Your Voice"…. and the list goes on and on.
.38 Special is coming to the Big O' Music Festival, presented by Fence Pros LLC,  on Saturday, August 13 in Owensboro at Reid Orchard!
Don Barnes and company are headlining the show and we had a chance to talk to Don about some many great years of the band, how some of the songs became the hits you know, and even the band's appearance on a game show.
Here is the interview with Don Barnes we recorded on July 12, 2016…
Click Here to Link to the Big O Music Festival
Click here to visit .38 Special's web site.
Click here to visit .38 Special's Facebook page.