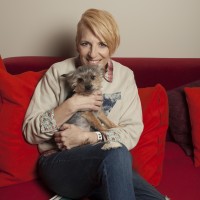 Lisa Lampanelli is Comedy's Lovable Queen of Mean. Heralded as "more than a standup — a standout," by comedy legend Jim Carrey, Lampanelli is a cross between Don Rickles, Archie Bunker, and a vial of estrogen. She has won accolades from The King of All Media Howard Stern, who called her "a true original and a brilliant comedy mind who'll steal the show every time." Known for saying things that most people are afraid to think, Lisa Lampanelli's raunchy, gut-busting performances are wildly popular at theaters across the U.S. and Canada. This equal opportunity offender is a regular on late night television, and a frequent guest and guest host on Howard Stern's Sirius XM satellite radio shows.
(more of her bio below…)
Here is our interview with Lisa on July 12, 2016…
Click Here for Lisa's Web Site
Click Here for Lisa's Facebook Page
Click Here for Lisa's Twitter Page
Click Here for Lisa's Instagram Page
Click Here for Information on Lisa's Performance on July 23 at the Victory Theatre
Click Here for Information on Stuffed
(more of Lisa's bio…)
Lisa recently shot her fifth stand-up special, Back to the Drawing Board, proving this insult comic is new, improved, and funnier than ever. The special premiered June 26th on EPIX and was just recently nominated for a 2015 Grammy Award for "Best Comedy Album." Comedy's Lovable Queen of Mean not only has a radically different look after having lost 100 pounds and getting a funky new haircut, she's gotten a divorce and has re-started her life as a 53-year-old single "girl." Lisa combines deeply personal bits about her recent life challenges with her trademark audience insults, and the result is a hilarious, insightful blend that is her most revealing, clever, and hysterical stand-up special yet!
Lampanelli has also parlayed her love of Broadway into her own stage show, Stuffed. In this original show, Lisa tackles weight, body image, and food issues from the perspective of four very different women with four very different problems. Delivered both in monologues and as interactions between the characters, the stories the four women tell are full of humor, soul, and passion, and will resonate with everyone who has struggled with food issues—or indeed, an addiction or compulsion of any kind. "Fat Girls, Interrupted" will do for weight and food issues what "The Vagina Monologues" did for women's nether-regions.
Lisa became a household name when she joined 17 other celebrities on the fifth season of NBC's "Celebrity Apprentice." The fifth installment of the show, with the largest-ever lineup of famous faces competing for charities of their choice, was a ratings bonanza for NBC. As a final four contestant, Lisa raised well over $100,000 for the Gay Men's Health Crisis. She is currently starring as a series regular on Bounty Hunters, CMT's first-ever animated show.
Lampanelli joined the ranks of comedy greats with her 2009 HBO comedy special, "Long Live the Queen," and that same year, released her first autobiography, Chocolate, Please: My Adventures in Food, Fat and Freaks. As a writer, Lisa was a monthly writer for the Women column in Playboy Magazine. Her first Greatest Hits album was released earlier this year.
Lisa's rise to the top of the comedy food chain began in 2002 when she was the only female comedian invited to skewer Chevy Chase on the NY Friars Club Roast. She soon became known as the "Queen of the Roast", going on to skewer such names as Pamela Anderson, Jeff Foxworthy, William Shatner, Flava Flav, David Hasselhoff and most recently, Donald Trump. Because of her success as a roaster, in 2009 Lisa was asked to be Roastmaster for the highly rated Comedy Central roast of friend and fellow comic, Larry the Cable Guy.
One of the few white comedians to perform on BET's "Comic View," and the "Wendy William Show," Lisa has clearly cemented her huge crossover appeal. Lisa went on to appear on Comedy Central's "Last Laugh 2005" and her one-hour special that year, "Take It Like a Man," was a hit with the comedy network yet again. The CD and the DVD of the same name hit #6 on the comedy charts. Then, in January 2007, Lisa's second one-hour special, "Dirty Girl," debuted on Comedy Central and Warner Bros. Records, and reached #4 on the charts. Soon thereafter, "Dirty Girl" was nominated for a Grammy Award for 2007's Best Comedy Album of the Year.
On the feature film side, Lisa appeared in the David Chase-directed feature film, Not Fade Away. She also appeared in "Larry the Cable Guy: Health Inspector" and had a featured role in "Delta Farce," opposite Bill Engvall, Larry the Cable Guy, and D.J. Quall. She also starred in the feature film, "The Aristocrats" and played a more maternal version of herself in the Owen Wilson vehicle, "Drillbit Taylor." Most recently, Lisa
On a continuous ride to comedic stardom, Lisa has also taped several specials for VH1, MTV, and CMT, and was a featured presenter on the Bravo's "A List Awards" and the "NewNowNext Awards" on Logo.
She currently resides in New York.
(photo by Dan Dixon)