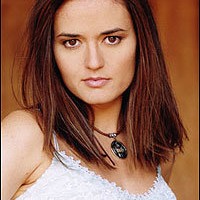 We had a chance to talk to Danica McKellar who is starring in the Lifetime movie "Momy, I Didn't Do It", airing January 1.
Here is our interview, recorded on Monday, December 19, 2016…
Click here to link to Danica's Facebook page
Click here to link to Danica's Instagram page
Click here to link to Danica's Twitter page
Click here to get more information on Danica's movie "Mommy I Didn't Do It"
Click here to link to Danica's web site
Click here to link to Danica's Mckellar Math web site
And here is her link to the McKeller Math Facebook page
Click here to learn about My Stuff Bags Foundation
DANICA McKELLAR STARS IN "MOMMY, I DIDN'T DO IT," THE SEQUEL TO THE RECORD-SETTING LIFETIME TV MOVIE, "THE WRONG WOMAN," AS A LAWYER WHO MUST DEFEND HER TEENAGE DAUGHTER WHEN SHE IS WRONGLY ACCUSED OF MURDER
Jonathan Bennett, Paige Searcy, Jamie-Lynn Sigler, Jaleel White, Jen Lilley, Emily Chang, Monty Geer and George Wendt Co-Star in the Drama Premiering Sunday, January 1, 8pm/ET on Lifetime
Danica McKellar stars in the drama, "Mommy, I Didn't Do It," the sequel to her record-setting 2013 TV movie, "The Wrong Woman." In the sequel, she reprises her role as Ellen Plainview, a lawyer and mother raising her teenage daughter on her own.
Seventeen-year old Julie Plainview (Searcy) is a typical teenager, rebellious and resentful of her single mother who works long hours to support them.
The morning after celebrating her high school graduation with her best friend, Sylvie (Caroline Sunshine), Julie is arrested for the murder of one of her teachers. Ellen, who has limited experience in criminal law, takes on the daunting task of being her defense attorney.
Ellen reaches out for help from Ben Saverin, (Bennett) a crime novelist she met four years earlier when she herself was on trial for a murder she did not commit. The two shared a brief romance that was interrupted when all of Ellen's time and attention was directed towards getting her law degree.
Ellen will have to draw on all her strength when she goes up against Detective Hamer, (White, who reprises his role) with a grudge against her, the victim's wife (Sigler), who accuses Julie of having an affair with her husband and a prosecutor, (Lilley), who doesn't like to lose.
Also co-starring are Jim O'Heir, Veronica Cartwright and Heather Tom.
"Mommy, I Didn't Do It," is a Check Entertainment presentation an HNBF Corp. Production. John Constantine, Gary Garfinnkel and Larry Greenberg are executive producers. Michael Amato and Richard Gabai are producers. The teleplay was written by Leland Douglas. Richard Gabai also directed.
DANICA MCkELLAR BIO
Three years after the wildly successful release of Lifetime's THE WRONG WOMAN, Danica McKellar is thrilled to reprise her starring role in its sequel, MOMMY, I DIDN'T DO IT.
Danica was first introduced to us as "Winnie Cooper" on the iconic television classic, THE WONDER YEARS. In addition to her passion for acting, which has resulted in a lifelong career including appearances on THE WEST WING and THE BIG BANG THEORY, Danica is a New York Times bestselling author with her groundbreaking books – Math Doesn't Suck, Kiss My Math, Hot X: Algebra Exposed, and Girls Get Curves: Geometry Takes Shape – which teach tweens and teens how to master tough mathematical concepts.
A summa cum laude graduate of UCLA, Danica earned her undergraduate degree in mathematics while also contributing original research – she co-authored a paper in the field of statistical mechanics titled, "Percolation and Gibbs States Multiplicity for Ferromagnetic Ashkin-Teller Models on Z2," which she presented at the 87th biannual Statistical Mechanics conference at Rutgers University. Her theorem, since dubbed "The Chayes-McKellar-Winn Theorem," was published in Britain's esteemed Journal of Physics, and has been featured on the front page of the Science section of The New York Times. Danica is recipient of the UCLA Award for Graduate Achievement, and the 2014 Communications Award from the Joint Policy Board for Mathematics, which includes the American Mathematical Society and the Mathematical Association of America. She testified before a Congressional subcommittee about the importance of women in math and science. Danica was named "Person of the Week" by ABC World News for tackling math education and simultaneously breaking the stereotype of the "math nerd" with her highly entertaining and illuminating books.
Danica has been a regular guest on NPR's esteemed Science Friday and produced her own show on Nerdist Channel, MATH BITES. She voices the role of "Miss Martian" on Cartoon Network's sci-fi series YOUNG JUSTICE. Danica captivated viewers with her movement and technique on DANCING WITH THE STARS (ABC) making her way to the quarterfinals.
As of late, Danica has been especially busy starring in movies for Hallmark Channel where she has drawn among the highest ratings. March 2017 will mark the release of Danica's first children's book, Goodnight Numbers.
Danica is the apotheosis of pop culture meets nerd culture. Her message to girls? Smart is sexy!